By: Wendy Koch, ACEEE Senior Director, Marketing & Communications
With the summer driving season upon us, gasoline prices—now averaging $4.33 per gallon for regular—will seriously jack up the cost of a road trip. A fuel-efficient car reduces those costs, saving hundreds of dollars on long rides.  
In fact, travelers save more than $500 by driving the most fuel-efficient 2022 midsize sedan—the Hyundai Elantra Hybrid Blue—rather than the least-efficient 2022 midsize SUV—the Jeep Wrangler 4X4—one way from New York to San Francisco, according to an analysis of ACEEE's GreenerCars data.  
Even on shorter trips, consumers benefit. By making the above vehicle switch, they save more than $60 in gasoline costs on a one-way trip from Indianapolis to Pittsburgh.  
Of course, staying home can reduce these costs (and related greenhouse gas emissions) the most, but many people are eager to travel more after two years of the COVID-19 pandemic. Taking a bus or train will usually reduce emissions, but it may not always be a viable or cost-effective option. 
A fuel-efficient vehicle reduces both gasoline costs and emissions. Because of supply chain disruptions, consumers may not be able to buy or rent the most energy-efficient options, which often include all-electric, plug-in hybrid, or gasoline hybrid vehicles. Still, they can lower operating costs by picking the most efficient option available. 
Smaller cars often get more miles per gallon (mpg) than larger ones. Yet as the graphic below shows, huge variations exist within the same vehicle class. The most fuel-efficient midsize car, for example, gets more than twice as many mpg as the Cadillac CT5 V, the least efficient mass-market midsize sedan.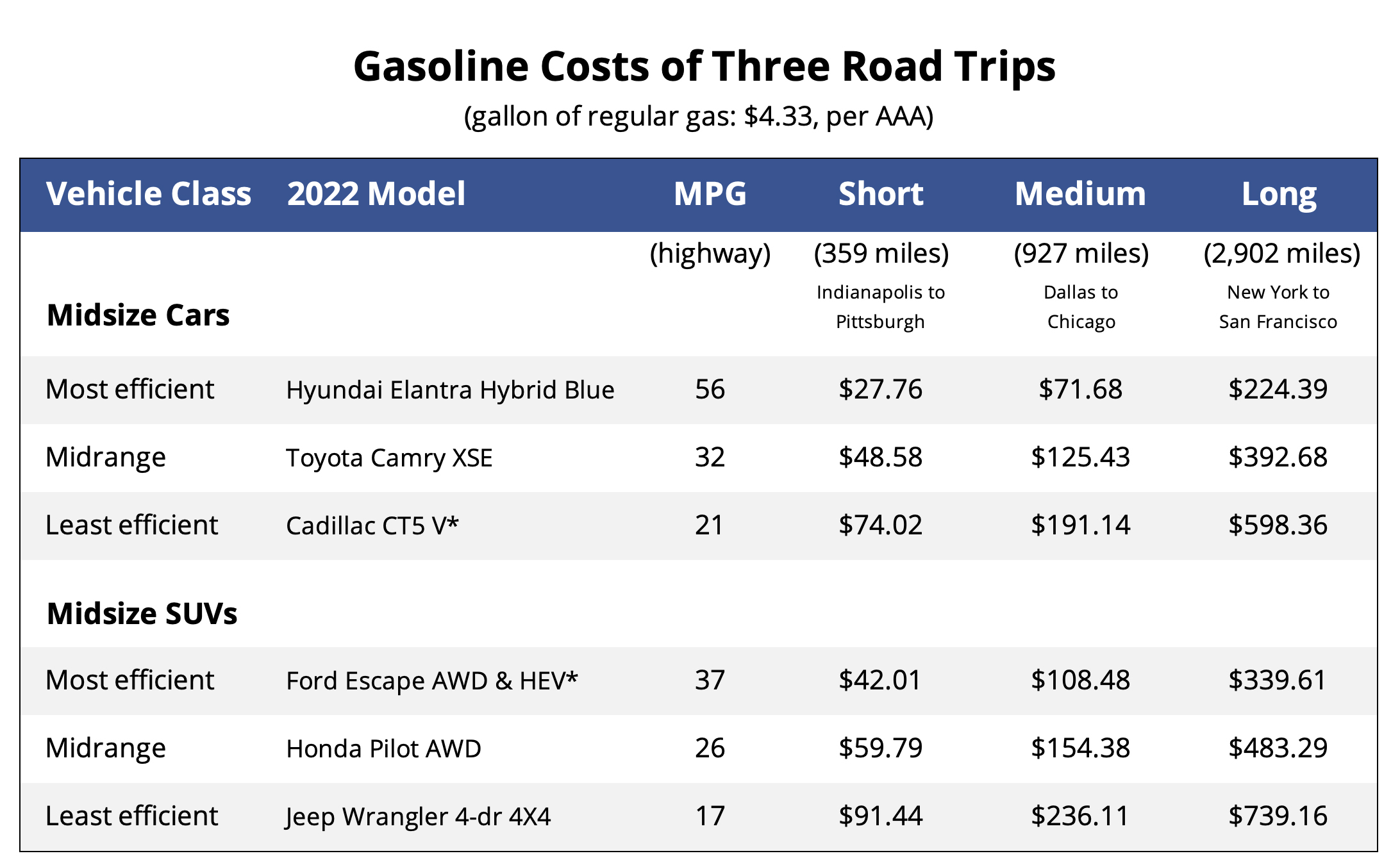 Note: This analysis uses the most direct driving routes and the average price of a gallon of regular gasoline, per AAA, as of July 26, 2022. It compares gas-fueled vehicles. *The Toyota Venza AWD and Lexus 350h AWD also get 37 mpg on a highway. 
Source: ACEEE's GreenerCars  
The good news: Many energy-efficient cars are moderately priced. The most fuel-efficient midsize sedan, the Hyundai Elantra Hybrid Blue, has prices starting at just under $25,000.  
The other good news: The availability of public charging stations for electric vehicles (EVs) and plug-in hybrid cars, though still spotty and uneven in parts of the United States, has improved. In addition, the driving range has improved for many newer EVs, allowing consumers to go farther on a single charge. 
Travelers can now take these vehicles on road trips. Monique Hanis, a retiree in Arlington, VA, who helped found Energy Efficiency Day, and her husband drove a plug-in electric hybrid round-trip from Virginia to California last fall, stopping at eight national parks and other tourist sites along the way. They often used public EV charging stations and dramatically reduced the gasoline costs of the 8,000-mile trip.  
Aside from vehicle efficiency, local gas prices also affect the cost of a road trip. While $4.33 is the average cost of a gallon of regular gas in the United States as of July 26, costs range significantly—from a low of $3.83 in Texas to a high of $5.71 in California, according to AAA. The average price, which has fallen in the last two months, is up from $3.16 a year ago. 

Source: AAA 
Join Energy Efficiency Day 2022. We invite you to join hundreds of other people and organization in becoming an official supporter of this annual public awareness event and to check out www.energyefficiencyday.org for more energy-saving tips.